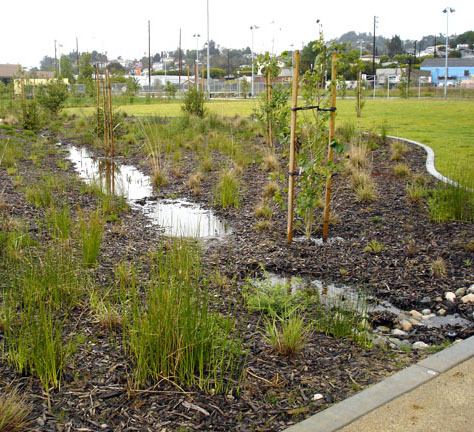 RIO DE LOS ANGELES STATE PARK / Los Angeles
From brownfield to urban parkland.
The 2007 grand opening of the 40-acre Rios de Los Angeles State Park in a former railyard was the first tangible piece in the revisioning of the Los Angeles River as a 100-acre urban greenway. Withers & Sandgren representing the interests of the City of Los Angeles, in tandem with State Parks, developed the active and passive recreational elements within a framework of sustainable LEED design solutions.
The site was acquired by State Parks in 2001 and a portion of the site leased to the City of Los Angeles to build and maintain much needed soccer and sports fields in a park poor area. The park concept was the result of consensus by more than three dozen communities. Seven hundred trees and a palette of California native plants restored the aesthetic and habitat of the former brownfield, reweaving it back into its greater context at the edge of the Santa Monica Mountain range. Vegetated swales replace traditional drainage pipe networks, filter pollutants, trap sediment and attract wildlife. The receiving 7-acre wetland is designed to capture a 100-year storm.
CLIENT: City of Los Angeles,
Bureau of Engineering